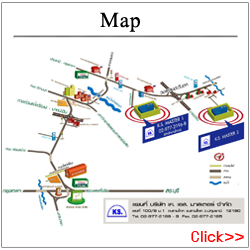 WE WILL BE THE PREFERRED PARTNER THAT ALWAYS DELIVERS THE BEST QUALITY OF PRODUCTS AND SERVICES TO THE CUSTOMERS WITH OUR TRUST & RESPECT, RELIABILITY, QUICK RESPONSIVE AND FLEXIBILITY AT COMPETITIVE COST
K.S. PRECISION HAS BEEN ESTABLISHED IN 1991 BY KHUN KUMPOL WHO HAS BEEN WORKING IN THE FIELD OF MECHANICAL ENGINEERING IN INDUSTRIAL FACTORY FOR MANY YEARS. THE OPERATION IS AIMING FOR ENGINEERING DESIGN, FABRICATION, INSTALLATION, AND MAINTENANCE OF THE MACHINE THAT USED IN MANUFACTURING PROCESS.
IN 1998, TO FULFILL AND SUPPORT OUR CUSTOMER NEEDS, WE HAVE SET UP THE NEW ORGANIZATION UNDER THE NAME OF 'K.S. MASTER'. WE ALSO SET UP THE NEW OFFICE / FACTORY COMPLETED WITH FACILITIES & UTILITIES LOCATED IN THE INDUSTRIAL PARK, AMPHUR SAMKOAK, PATHUMTHANI PROVINCE. THE WORKING AREA IS ABOUT 2,300 SQUARE METERS.
AGAIN IN YEAR 2004, WE HAVE ESTABLISHED OUR BRANCH OFFICE / FACTORY THAT LOCATED IN AYUTTAYA PROVINCE; THEREFORE WE CAN COVER WITH THE HIGHER DEMANDS AND STILL HAVE MORE SPACE FOR THE FUTURE EXPANSION. THE WORKING AREA IS ABOUT 2,200 SQUARE METERS.
CURRENTLY, WE HAVE FORMED THE GROUP OF EXPERT ELECTRICAL AND CONTROL ENGINEER TO PROVIDE THE COMPLETED SOLUTION IN TERMS OF MECHANICAL, ELECTRICAL AND CONTROL INCLUDING HARDWARE & SOFTWARE AND CONTROL SYSTEM DESIGN.